GOLF IN HUA HIN

In the royal resort of Hua Hin, the sport has to be golf. There are six 18-hole par-72 courses within 25 minutes drive.
The oldest course in town, the Royal Hua Hin Golf Course behind Hua Hin Railway Station (66-32-512-475, fax 66-32-513038), is a gentle samlor (tricycle) ride away. The gentlemen's course is 6,678 yards and the ladies' 5,713. Green fees for weekdays are Baht 600 rising to Baht 1,000 on Sat and Sun. If you need to rent a set of clubs the fee is Baht 500, while caddie fees are Baht 100 for nine holes, Baht 180 for 180. Shoe rental and driving range practice are also available.

Majestic Creek Country Club (66-32-250162-6, fax 66-32-523477)
is 22 km away on the main road towards Cha-am. The Pro's course is 7,123 yards, Semi Pro's 6,406 and Ladies' 5,571. Green fees are baht 550 for nine holes on any day and 18 holes Mon-Wed and Fri. The full course Sat and Sun costs Baht 1,100. There's a fixed caddie fee of Baht 170 irrespective of holes played. Club rental is Baht 500/set.
Imperial Lake View Hotel & Golf Course (66-32-520178, 520423, fax 66-32-520098)
is managed by the Imperial Hotel Group and is 19 km. out of Hua Hin the Cha-am road. Mon-Fri green fees for 18 holes are Baht 650; Sat and Sun fees double to Baht 1,300. Caddie fees are Baht 170 for 18 holes, and Baht 600 for and electric buggy.
Springfields Royal Country Club of Cha-am (66-32-471303, fa 66-32-471324)
was designed by Jack Nicklaus. The courses range from Championship 7,063 yards and Professional 6,695 yards to Men's 6,281 yards, Ladies' 5,600 yards and Junior's 4,964 yards. The course rating varies from 74.1 (Championship) to 71 (Juniors). Green fees for 9 or 18 holes are Baht 900 Mon-Fri rising to Baht 1,400 Sat and Sun. There's a flat caddie fee of Baht 170 and club rental at Baht 660/set.
Palm Hills Resort & Country Club, Cha-am (66-32-520800-11, fax 66-32-520820)
is 8 km. out of Hua Hin. The Pro's course is 7.203 yards, Men's 6,376 yards and Lasies' 5,599 yards. Green fees for 9 holes are weekdays Baht 350, Sat and Sun Baht 700. For 18 holes Baht 650 weekdays and Baht 1,300 Sat, Sun and holidays. There's a flat caddie fee of Baht 170, a cart fee of Baht 300 (9 holes) or Baht 700 (18 holes) and club rental of Baht 600/set.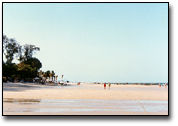 GETTING AROUND


Tours and transport to the many sights around Hua Hin can be arranged by the major resort hotels. Alternatively there are regular and inexpensive bus services between the main centres. In the resorts the most common means of transportation is the trishaw accommodating two passengers.
DINING & ENTERTAINMENT

Resort hotels offer an excellent choice of restaurants serving a variety of cuisines. In addition Hua Hin has several simple but good restaurants where the local specialty is deliciously fresh seafood.
For evening entertainment there are cocktail lounges and nightclubs at the major hotels. In a different vein, Hua Hin's night market affords great pleasure for the browser and shopper alike. Best buys for the dedicated shopper are locally produced silk and cotton, as well as the region's famous dried seafood and various kinds of kanom, Thai sweets.
Indeed, Cha-am and Hua Hin offer a little of everything-- except crowds.

ATTRACTIONS IN HUA HIN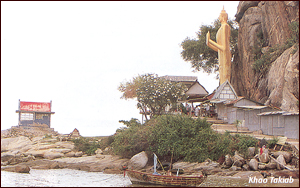 Khao Takiab, Khao Krailat
These two hills are only 4 kilometers from Hua Hin township. A local bus service from Hua Hin to Khao Takiab is located on the sea shore It is convenient to get to the top of Khao Takiab where it is cool and shady and one can view local scenery.
Sea Pine Tree Garden
This garden is located 8 kilometers from Hua Hin city. A left turn is made at Km. 240 for a distance a 500 meters. The original name of this garden was "Pradiphat Garden Convalescence and RelaxationThere Area" and is taken care of by Army Welfare Office. There are food shops and accommodation for the public.
Khao Tao
This hill is located in the area of Amphoe Hua Hin Office. Between Km. 243-244 there is a one kilometer branch road on the left, which leads to the spot. There are two beautiful beaches called Sai No Beach and Sai Yai Beach.


NEIGHBORING ATTRACTIONS
Sam Roi Yot National Park
This park is 58 kilometers from Hua Hin town ship. It occupies an area of 61,300 rais (some 24,520 acres) and was designated as a national park on June 28, 1966. The geographical characteristics of the park consist of high limestone mountains, wide Marshland near the sea shore, and islands. In addition it is also the center of various species and families of plants and trees as well as the home of wild animals. There are three caves worth visiting within the park: Keaw Cave, Sai Cave and Phrayanakhon Cave.
There are bungalows and a camping area for those who require an overnight stay in the park. Reservations can be made at the National Park Division, Forestry Department Tel. (02) 5790529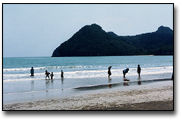 Prachuap Bay
This bay is situated in the vicinity of Prachuap Khiri Khan township,90 kilometers from Hua Hin. Its beach is long and pleasant. There are bungalow accommodation operated by both the Provincial Administration Organizations and the Municipality for public service. Details can be obtained by telephoning (032) 611204
Manao Bay
This bay is located five kilometers from Prachuap Khiri Khan township area and is administered by the Royal Thai Airforce. A permit should be obtained from the commander of the 53rd Squadron, Prachuap Khiri Khan, prior to a visit.
Wanakon Beach
This beach is 22 kilometers from Prachuap Khiri Khan township Travel to Km. 345 make a right turn and go 3.5 kilometers to the sign board saying "Huai Yang Arboretum". The seven kilometers long beach is lined with sea pines. Accommodation facilities can be reserved at the Faculty of Forest Affairs, Kasetsart University, Tel. (02) 5790520 Huai Yang Waterfall Forest Park A few kilometers from Wanakon Beach, this is an ideal place for picnics and natural sight-seeing.
INTRODUCTION TO HUA HIN

TRANSPORTATION
By Bus
Air-con(litioned buses leave Bangkok's Southern Bus Terminal (Tel. (02) 435-5032, 435-5097, 4357455) 36 times daily between 4.20 a.m.. and 4.20 p.m. (40 minute intervals).
Non-air-conditioned coaches leave from Bangkok's Southern Bus terminal on Petkasem Road 19 times daily.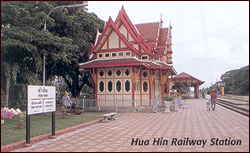 By Train
Trains depart daily from Bangkok for Hua Hin.
Express Diesel Railcar leaves Bangkok daily at 9.15 p.m.
Express trains leave Bangkok 5 times daily at 2.00 p.m., 3.15 p.m., 5.05 p.m.,7.20p.m.and 10.35 p.m.
Rapid trains leave Bangkok 4 times daily at 12.35 p.m., 4 p.m., 5.45 p.m., and 6.30 p.m.
Diesel Railcars leave Bangkok twice vice daily at 9.00 a.m. and 1.40 p.m.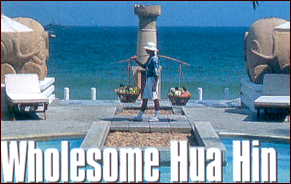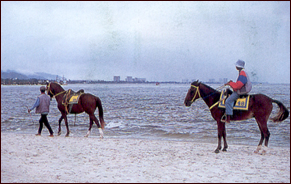 INTRODUCTION TO HUA HIN