TP 17 Danish designed and built two storey sublime luxury house in Cha-Am THB 7.900.000.-

History
Thailand is the only country in Southeast Asia that has never been colonized by European powers. A united Thai kingdom was founded sometime in the 1400s, and the country is traditionally believed to have been founded in 1238. Thailand was known by the name of Siam until 1939. The country has enjoyed constitutional monarchy (like Denmark) since a bloody revolution in 1932. and has since been ruled by various military and civilian governments. In 1997, the country was given a new constitution which, among other things, must ensure a less corrupt public administration and improve the rights of citizens.
Geography
Thailand is located between Burma, Laos, Cambodia and Malaysia. It has coasts out to the Andaman Sea and the Gulf of Thailand. The area is 511,770 square kilometers and the capital is called Bangkok.
Climate
Tropical, rainy, warm. Cloudy southwest monsoon (May to September), dry cold northeast monsoon (November to March). In the south shore, there is always warm and humid.

Environment
Air pollution caused by vehicle exhaust, water pollution due to wastewater, deforestation, erosion, wild animal species is threatened by illegal hunting.
The population
The majority of the population is ethnic Thai (75%). In addition, Chinese (14%), Malays (3%) and a mix of various minorities such as Vietnamese, Khmer and Indigenous peoples such as Karenans and others. (8%). The country's official language is Thai, but in addition a large number of minority languages are spoken. There are a total of 75 languages in Thailand.
Population: 62.35 million (2002)
Population growth: 0.88% per year (2002)
Births: 16.39 per 1000 inhabitants (2002)
Deaths: 7.55 per 1000 inhabitants (2002)
Infant mortality: 29.5 per 1000 births (2002)
Fertility: 1.86 children per woman (2002)
Life expectancy: men: 66 years, women: 73 years (2002)
Culture and communication
Number of long films produced in the country per years: 194 (1989)
Number of long films imported per year: 219 (1994-1998)
Number of cinema tickets purchased per per capita year: 0.4 (1994-1998)
Number of UDK book titles produced in the country per year: 8142 (1996)
Important authors: Kukrit Pramoj, Khamsing Sinok, Bubpha Nimmanahemin.
Book exports: NOK 40.3 million (1997)
Book imports: NOK 306.1 million (1997)
Number of TVs per 1000 inhabitants: 254 (1997)
Number of radios per 1000 inhabitants: 234 (1997)
Number of daily newspaper titles produced in the country: 30 (1996)
Number of readers of daily newspapers per 1000 inhabitants: 64 (1996)
Telephone headlines: 5.6 million (2000)
Internet users: 1.2 million (2001)
Across the road from all the royal grandeur is a small structure enclosing Lakmuang or the foundation stone of Bangkok. The locals surround it with flowers, candles and incense. On the edge, people sell food, amulets and lottery coupons. Outside, one is asked to buy birds, not to keep, but to release as an act of piety.
The country's treasures displayed in the National Museum are so extensive and exotic that you can be overwhelmed. The most interesting items include pots and jars with unforgettable designs, probably 5000 years old. Metropolitan Bangkok counts dozens of Watts Buddhist monasteries or temple complexes. The 16th century Wat Pho near the Grand Palace, with a huge gilded reclining Buddha and much other art, is the oldest and largest monastery of the city.

Wat Arun stands on the opposite bank of the river, just a minute or so away by ferry. The central tower, higher than a 20-storey building an elongated Aztec pyramid. The most popular sightseeing destination in Bangkok, the Floating Market Tour, explores the Chao Phraya River and some of the klongs (canals) west of the city. Early in the morning is the best time to catch the vendors on their laps, paddling past the canal-front houses. Included in the tour is a visit to the Royal Barge Museum, home to the over-the-top dream boat with red and gold decorations.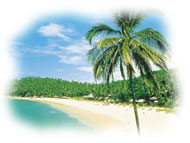 Bangkok has no real center, but several districts, scattered, require attention. Northeast of the Grand Palace, a wide, green boulevard, Ratchadamnoen Nok is lined with government office buildings, often with steep traditional roofs. It leads to the Marble Temple, Wat Benchamabophit, an oasis of calm. Chinese tiles cover the interlaced roof, and a pair of huge marble lions guard the entrance to the bot (sanctuary). In Chinatown, every shop window brings a new discovery, from snake wine to paper kites. Wat Traimit houses a Golden Buddha seven or eight centuries old, weighing 5 tons. Further east, the area around Siam Square has movie theaters, restaurants and shopping malls. Jim Thompson's House, cluttered home a devoted collector, is full of Oriental art. Thompson put the Thai silk industries on the map he disappeared on holiday in Malaysia in 1967.
Above the railway line, in the eastern part of the city of Sukhumvit Road marks the beginning of a shopping, entertainment and residential area.
Country facts about Thailand
Education
96% of men and 91.6% of women over the age of 15 can read.

Religion
The official religion is theravada Buddhism (95%). In addition, Islam (3.8%) and Christians, Hindus, etc.

Form of government
Constitutional Monarchy. Head of State: King. Prime Minister:.



Uafhængighed
Landet har som det eneste sydøstasiatiske land aldrig været koloniseret af en europæisk magt.
Economy
After experiencing the world's highest growth from 1985 to 1995, Thailand was hit in 1997 by an economic crisis that revealed major problems in its financial sector. However, in 1999 and 2000, the country seemed to be heading back to stable economic growth. But as the country is heavily dependent on its largest export markets, the US and Japan, it was hit hard by a diminished demand for these in 2001. However, with the help of rising foreign investment, the government has since succeeded in boosting national demand by supporting agriculture and solve debt problems in the financial sector. In the longer term, however, reforms of the education system, for example, are regarded as crucial criteria for the country's economy.
GDP: Purchasing power parity per share. Population: DKK 49,500 (2001)
Population below the poverty line: 12.5% ​​(1998)
Inflation rate - price index: 1.6% (2001)
Workforce: 33.4 million (2001)
By occupation: agriculture 54%; industry 15%; service 31% (1996)
Unemployment rate: 3.9% (2001)
Industry: Tourism, textiles and clothing, processed agricultural products, beverages, tobacco, cement, small industries such as jewelry; electrical instruments and components, computers and computer parts, furniture, plastics. Thailand is the world's largest producer of tungsten and the third largest producer of tin.
Agricultural products: Rice, tapioca (a kind of sago), rubber, corn, sugar cane, coconuts, soybeans.
Exports: NOK 489.8 billion (2001)
Goods: Computers, transistors, seafood, clothing, rice.
Major trading partners: USA (23%), Japan (14%), Singapore (8%) (2000)
Imports: NOK 467.3 billion (2001)


Goods: Capital goods, semi-finished goods, raw materials, consumer goods, fuel.
Major trading partners: Japan (24%), USA (11%), Singapore (10%). (2000)
Foreign debt: DKK 165.1 million
International financial assistance per. inhabitant: approx. 107 kroner (1999)
Military expenditure as a percentage of GDP: 1.4% (2000)

Sources: The Great Danish Encyclopedia, CIA - The World Factbook, UNESCO Institute of Statistics, UNESCO World Culture Report 2000, Ministry of Foreign Affairs Country Facts; United Nations World Population Prospects Population Database, Human Development Index, Ethnologue, EKF
Note: The figures for some of the statistical categories are not available, which may be due to the country's economic, political or historical situation. However, the lack of this information may have some information value in itself.
Country facts about Thailand

Usefull links thailand
more than 500 links and information about Thailand